Michael P. Broxterman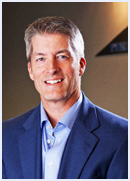 As President and CEO, Michael determines the firm's strategic direction, oversees operations and directs marketing and sales. In 1994, along with his late business partner, John R. Couvillon, Michael co-founded the company with the primary vision to help bring healthcare to communities that need it.
Because of his commitment to achieve this vision each and every day, Pinnacle Health Group has earned an exceptional reputation among the entire healthcare community and continues to drive strong growth.
Michael is a true visionary with more than 25 years of experience in physician recruitment, and has distinguished himself as a marketing expert and innovator within the industry. In 1997, Michael was appointed to the National Association of Physician Recruiters' (NAPR) Board, where he served for more than 10 years including as President from 2004-2005. Michael has been instrumental in the association earning national recognition in the healthcare industry.
In collaboration with the NAPR and the MGMA (Medical Group Management Association), Michael also played a key role in developing the "Physician Placement Starting Salary Survey. This industry-leading survey is a popular tool in physician recruiting.
Michael earned an MBA from Xavier University, Ohio, and a B. S. in Chemistry from Miami University, Ohio. An avid baseball fan and little league coach, he is first and foremost, a family man. His wife and four school-aged children happily reside in Atlanta, Georgia.